To our present and future customers: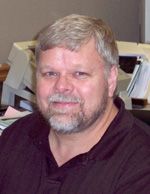 Every business likes to think it's a little bit different from its competitors. In the case of Dimensional Graphics, we really are unique because we are one of the few truly full service printers in the Iowa/Illinois Quad Cities.
With so many professional printing and support services available under one roof, it's no longer necessary to spend your valuable time looking for:
A small corner print shop or quick print shop to handle simple, one-color letterheads, forms and imprinting, or to provide you with black & white or color laser copies;

A larger commercial printer capable of printing your multi-color brochures and complex bindery services;

Yet another source for affordable typesetting, desktop publishing and design services;

Still another supplier for large format trade show and point of sale graphics.
Not only do we provide all these services and more but we perform them all extremely well, and we offer them all to our customers as a whole package or individually. Most important, we continue to provide the kind of patient, old fashioned, one-on-one customer service that's so difficult to find in today's fast paced business environment.
Need a hand with your commercial printing needs? Need some guidance on the best and most affordable way to approach a printing project? Call or stop in. We'll be pleased to talk to you, analyze your problem and help you find the right solution. It's all part of who we are and what we do.
Respectfully,

General Manager