We do printing, but we're all about people.
There's a common belief in the commercial printing trade that the keys to success are equipment, aggressive pricing, and cranking out a high volume of work. We beg to differ.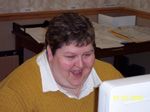 Oh, we agree that the proper equipment is necessary in order to do the job right … and competitive pricing is essential for any business that hopes to earn new customers and keep them for the long haul. And we would be less than honest if we didn't admit that we want more business as much as the next print shop.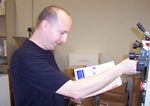 But, we also believe there's one critical element missing from that equation: people. Because without the right people with the right attitude and the right work ethic, a customer's problems aren't solved properly and his project probably won't be completed to his satisfaction. Equipment and pricing aside, without a staff that's knowledgeable, caring, and willing to ask the right questions on the front end … and offer options and solutions that will ensure the project's satisfactory completion on the back end … the result is usually less and the price is often more than the customer expects.
Throughout our long history in the printing business, Dimensional Graphics has worked hard to maintain a reputation as a strongly service oriented business with a staff that's both competent and genuinely concerned for our customers' well being. We give our staff members the tools they need to do their jobs right. But even more important, we stress the importance of old fashioned one-on-one customer service … because that's who we are.
And that's what makes us different.